[Book Review] Night and Silence
Night and Silence (October Day #12)
/ Seanan McGuire
Previously reviewed: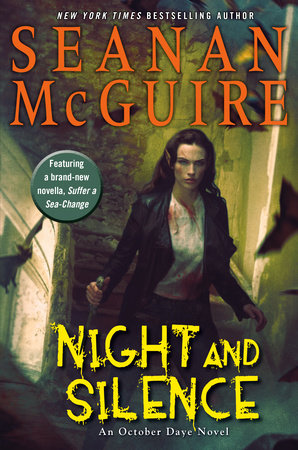 Oh Toby.
When I began my review for
The Brightest Fell
, I remarked from the start that it felt like the book marked a turning point, that we had hit a new stage, that debts were starting to come due. That isn't to say that she never pays a price, but the prices are becoming more dear. What she stands to lose more precious, and what she retrieves is not quite whole.
Toby starts this story vulnerable. There's the humor we all love and expect, but she is raw and exposed, her network weakened. Tybalt is keeping distant and Gilly has been taken. Threads of Toby's family history are starting to show, and at it's heart,
Night and Silence
is a book about family.
The ending is uneasy, uncomfortable, and it should be. This isn't a happy ending. Things are too raw, too forced by necessity. There is hope, but there is also grief from change and the loss that comes from change.
An enjoyable continuation, paired with an excellent novella centered on Gilly and where she is now.
Advance Reader Copy courtesy of Daw (Penguin RandomHouse) in exchange for an honest review; changes may exist between galley and the final edition.