[Book Review] False Value
False Value (Rivers of London #8) / Ben Aaronovitch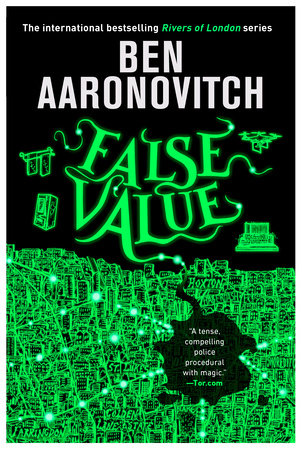 "Peter Grant is facing fatherhood, and an uncertain future, with equal amounts of panic and enthusiasm. Rather than sit around, he takes a job with émigré Silicon Valley tech genius Terrence Skinner's brand new London start up - the Serious Cybernetics Company.

Drawn into the orbit of Old Street's famous 'silicon roundabout', Peter must learn how to blend in with people who are both civilians and geekier than he is. Compared to his last job, Peter thinks it should be a doddle. But magic is not finished with Mama Grant's favourite son.

Because Terrence Skinner has a secret hidden in the bowels of the SCC. A technology that stretches back to Ada Lovelace and Charles Babbage, and forward to the future of artificial intelligence. A secret that is just as magical as it technological - and just as dangerous."
As much as I love a good Hitchhiker's reference, it's disorienting to read about Peter Grant in the private sector. It's hard to imagine him walking away from the Folly and his apprenticeship. Yet, here we are.
With False Value, Aaronovitch shifts the game by giving us a mystery revolving around technology. Artificial Intelligence, technology married with magic, and a touch of otherworldly horror. There are, of course, secrets and twists revealed along the way. Peter also has to face the cost of doing the job and doing the right thing.
An excellent continuation of the series that offers new directions and depth.
Advance Reader Copy courtesy of Penguin RandomHouse in exchange for an honest review; changes may exist between galley and the final edition.