[Book Review] How Rory Thorne Destroyed the Multiverse
How Rory Thorne Destroyed the Multiverse
(Thorne Chronicles #1)
/ K. A. Eason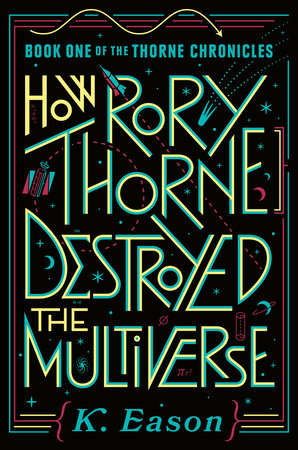 It turns out describing a book as "Princess Leia meets The Princess Bride" is pretty much a guaranteed way to get my interest.
The tale of Rory Thorne is an utterly delightful space romp told by a smart narrator with a sardonic sense of humor. It takes on the mantle of a familiar fairy tale (with the titular character's last name of "Thorne" it's not a hard guess) and makes something new. We have the "fairies" with their gifts, our royal princess, a curse - but noting quite as traditionally expected.
Rory's curse is not to die (nor is the amelioration to simply fall asleep), but instead she is cursed to always see the unvarnished truth of things, what people actually mean. Considering how much of society runs due to polite fictions, that is no insignificant burden on a precocious child, particularly when among adults who may not believe in such things as "fairy gifts."
While she is not quite a self-rescuing princess, she understands the value of a team and a good plan, Rory rises to the challenges thrown her way. She's not omniscient, and certainly not all of her choices are the correct ones, but thanks to the last fairy gift, she always can find a way through.
Highly recommend this for a fun read, I've been recommending this one to friends and coworkers, and we added it for circulation at my public library.
Advance Reader Copy courtesy of DAW in exchange for an honest review; changes may exist between galley and the final edition.