[Book Review] The Library of the Unwritten
The Library of the Unwritten (A Novel from Hell's Library)
/ A. J. Hackwith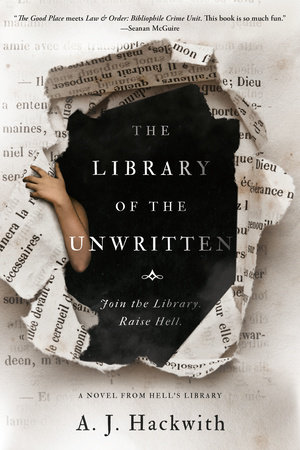 From the cover:
Join the Library.
Raise Hell.
Well... that sure as shit hits me as a target demographic.
The Library of the Unwritten
gives us a mythology infused contemporary fantasy as a Librarian and her assistants attempt to prevent a war between Heaven and Hell, and defend the library from those who would use it for their own gain.
The Ensemble we follow is made up of characters that don't so much grow as are revealed and discovered. They also exist in shades of grey, with internally conflicting needs and wants, adding depth to the story. The span of the book is not so long in time, and the cast is new to both the reader and to each other. The story itself makes referential use to literary tropes, but does not rely heavily on pop culture to convey ideas.
Over all it was a very enjoyable read, one that I have not only recommended to friends but we have added it to the collection at the Library I work at.
Advance Reader Copy courtesy of Ace in exchange for an honest review; changes may exist between galley and the final edition.