[Book Review] Peace Talks
Peace Talks (Dresden Files #16)
/ Jim Butcher
Previously Reviewed
OK.
It's been
six years
since
Skin Game
came out. A lot has happened since then, both to me as a reader and to Butcher as an author. And there's been one heck of a lot of anticipation and expectation for this book, which presents a challenge. So this is going to be a first pass review, I intend to read and review it again closer to it's release date, hopefully in final print and not e-galley format.
When the Supernatural nations of the world meet up to negotiate an end to ongoing hostilities, Harry Dresden, Chicago's only professional wizard, joins the White Council's security team to make sure the talks stay civil. But can he succeed, when dark political manipulations threaten the very existence of Chicago–and all he holds dear?
I applied for a review copy as soon as I read the email notification... and then spent an awkward amount of time figuring out which ebook reading app
actually
worked with Adobe DRM and could parse the .ascm file. That out of the way, I opened the book, went "well
that's
a beginning" and proceeded to devour the story. The past few weeks since have been me dying to talk about it with other people and trying to figure out how to handle this review. I don't want to spoil things, I'm not sure how much my own excitement colored my reading, and also I needed to double check there's no embargo on review dates.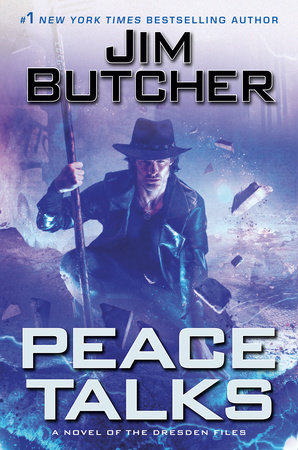 Right up front I have to admit that I'm not sure how I feel about the book. I can't go into too much depth at risk of spoilers, and I'll probably get into this more when I re-read and review closer to the release date.
Everything has gone to a level again, a new stage to clear, a new boss level. That's expected. Unfortunately there's a return to a status quo that I was happy to leave behind once his Doom was cleared. It's not that Harry is overwhelmed, because it takes that for him to reach out for help. It's not that he's boxed in, because we want to see how creative he gets in worming his way out. It's that I was left with a feeling of "oh, are we really doing this again?" when presented with some of the constraints.
There's some good, some sweet, and some about damn time, but perhaps that's just more to lose for all of the characters involved. Butcher reminds us of the costs characters have paid to get to this point, and that's not lost on the reader or the weighing of action. Also one of my favorite Lovecraftian horrors is mentioned by name.
The story made me smile, made me feel.
The power levels are high enough that fights are getting a little absurd. On the other hand, Harry gets to witness what he must look like to normal people. I appreciate that as characters gain in power it becomes harder to present them with challenges and enemies that they don't blow through like tissue paper dolls , but I don't quite feel that Butcher succeeded in either balancing of the varied threats or in providing limiters that don't feel tired.
But lastly, this book isn't a complete story.
It's a preamble.
This is the book that is the set up for the next major arc. The one that takes the series as and makes a pivot. The direction isn't unexpected, particularly for those who have been following Butcher and are aware of his stated plans for the metaplot. But the book ends on page 326 and I'm left wondering where the rest of it is. The story is going somewhere, and I truly don't know how Harry and his allies are going to survive what's coming.
Advance Reader Copy courtesy of Penguin RandomHouse in exchange for an honest review; changes may exist between galley and the final edition.