[Book Review] A Killing Frost
A Killing Frost (October Daye #13) / Seanan McGuire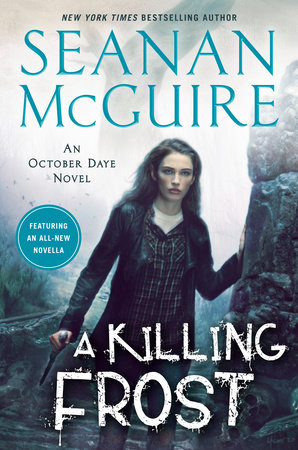 Previously reviewed:
A Killing Frost is a story about marriage and family, from the consideration of what does the bride wear when she assumes she'll end up covered in blood, to familial law. Toby doesn't so much seem to get Happily Ever After so much as Happy For Now, due to a mix of inescapable bad situations, Toby sense of duty and loyalty, and her indestructibility. However, Toby does generally complete her Quests, so going into the story, no matter how impossible, we have reason to believe that she will pull through even if there's a cost to pay.
When Toby learns that she has to invite her mother's husband, Simon Torquill, to her wedding lest someone claim insult against her and demand a price she cannot pay, her task seems particularly impossible. He is lost, has sacrified his way home until he finds Oberon, and until he fulfills his quest he is a deadly danger to everyone Toby cares for.
I feel that I can say that Toby finds a way, with a cost, to achieve her quest, without ruining the story.
The most interesting and fascinating things are what happens around it all. For much of the series Simon Torquill has been a boogeyman, the man who kidnapped Luna and Rayseline, and a partner to the assassin Oleander de Merelands. Several books ago, McGuire gave us a glimpse at the man Simon used to be, before he becomes lost to save his daughter. For all of the focus on the search for Oberon, this is a book about finding Simon in every meaning. Simon was once a good man, and there are those in Faerie that still remember the man he was. Changelings are not the only ones who have suffered for a power greater than their own.
There are happy endings in this book. Not the ones I expected at the start of the story, or even halfway through. The story is earnest and desperate and feeling. And just as she changes the balance of blood, Toby continues to change the balance of Faerie.
Advance Reader Copy courtesy of DAW (Penguin RandomHouse) in exchange for an honest review; changes may exist between galley and the final edition.